Assalamualaikum warahmatullah wabarakatuh.
It looks like I've been away so much lately. Since I haven't been blogging much, today I'd like to share with you 4 photos of my dresses which I've worn starting from last week's Sunday until Wednesday. My intention was to share a one week fashion diary, however I have work to do so the list will only be for 4 days. I hope you'll enjoy the sharing.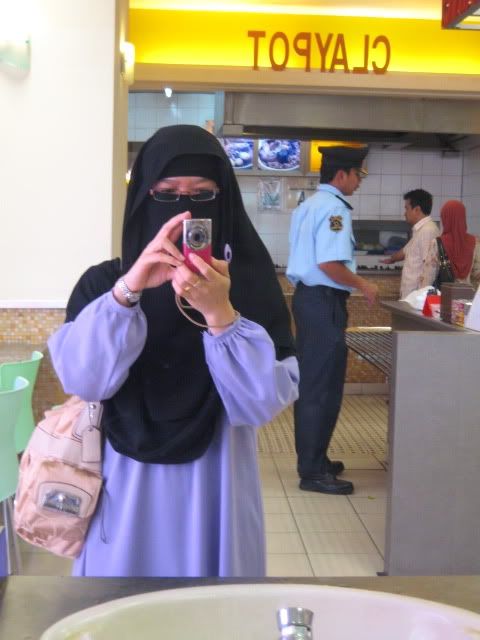 Sunday Style - Simple in Uniform
Most of you might know that I'm working on Sunday. Our local weekend days are Friday and Saturday but my workdays are Sunday until Wednesday and Saturday. Confusing for others but for me and my colleagues, it's normal because we've been used to the schedule since 7 years ago. That's how it work for us working at this personally owned public library in Kelantan. Anyway, on Sunday I have to wear my uniform. There are 3 different outfits; a jilbab coloured dark green (patterned), plain light purple jilbab (the one above) and an orange-brown batik baju kurung. Last Sunday, I wore the purple one matched with a black soft shayla from Qatar, a coach handbag and a simple black Ruccini shoes.
Usually I only wear something a bit colourful on Sunday and apart from that day, I am back to my black abayaat. As I was a bit busy on Monday I don't have much time to pose hence this photo of only my abaya. This is the bestseller abaya in my abaya shop,
ABAYA ELEGAN
. It comes in 3 different colours of embroidery and 2 different type of sleeves. You can have a look at
ABAYA ELEGAN
. I love wearing Layla Abaya because it suits any occasions be it to work, to dinner, to formal events, visiting friends or family, you name it. And the material will not make you sweat more than usual. It also falls down nicely over your body.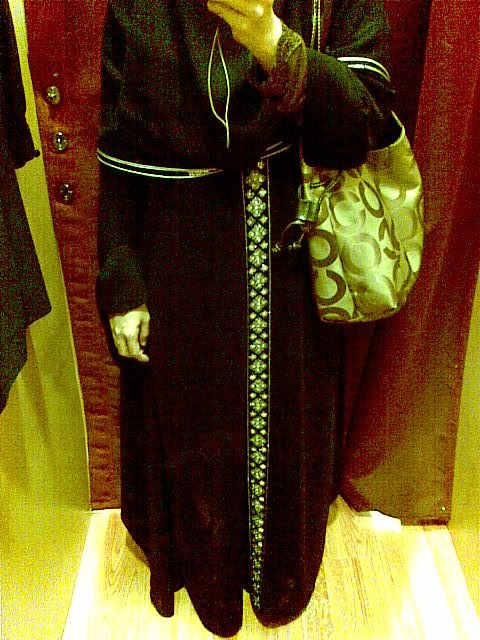 Tuesday is butterfly abaya day.
Ever since I discovered that a small petite person like me look ok wearing a butterfly abaya, I've bought 3 pieces custom made according to my size. Well, actually I can easily fit the size XS/50 which is the smallest size of Dubai abaya. Anyway, I love wearing this abaya especially the ones made by saharayusuf enterprise. They are very comfortable and make me feel really elegant and lady-like wearing them. In the photo above, I wear Haniza Butterfly Abaya matched with a simple silver lining shayla from Dubai, another Coach (imitation) handbag and I forgot which shoe that I have on.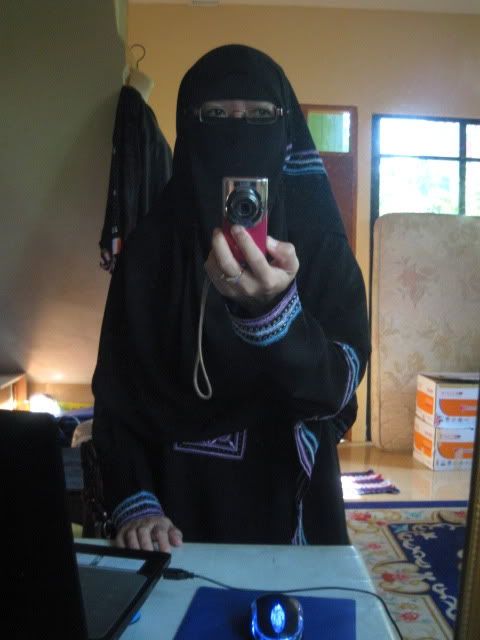 Another butterfly abaya on Wednesday.
This is my first abaya ordered from Indonesia. I don't really fancy Indonesian jilbab or abaya simply because I've seen so many of them in the local market which have a very shapely cuttings and straight cut. I do not like wearing a jilbab or an abaya that will show my body shape. For me it will loose the purpose of covering the aurah. However, for the first time, I saw this abaya from Laniz Collections in facebook. After several consultations, I ordered this. Alhamdulillah, the result is good.
I think that all for now. I have some work to do. See you again soon. Wassalam.